Friday Night Funkin vs Sonic.EXE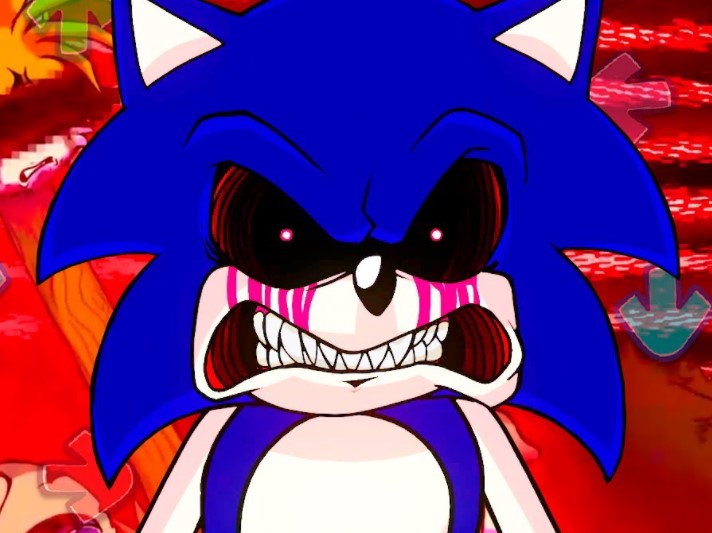 A legendary Sonic character is not a new opponent for Boyfriend. It is a well know hedgehog from the eponymous online game. The character is blue all over and moves at the speed of sound. It is true to say that that he is one of the fastest characters in online games ever created. This funny animal jumps and runs really skillfully and can even curl up in a roll. Sonic's appearance has changed many times during his life. At the beginning, this character is quite friendly, however, things change very soon. Sonic soon turns into Dark Sonic. Shortly, further metamorphoses happen to the hedgehog and he transforms into a real monster. Now this beast can climb any horizontal and vertical surface and has tremendous strength.
He starts any fight without hesitation as he has acquired excellent combat skills. And when he finally appears in this recent FNF mod, you will be shocked by how much he changed now. Now it is the worst version of the hedgehog, and he calls himself Sonic.Exe. And the most horrible thing is that it keeps becoming even scarier during the game. Unfortunately, Boyfriend has no choice but to enter this dangerous duel. But you understand that his risks his life if he fails. So it is really necessary to support poor Boyfriend in this uneven confrontation. You need to know that every time you win a song, Sonic.Exe will become even more aggressive and terrifying. But do not pay attention to it, dance as well you can and win all the rounds against this terrible creature! Press the arrows on the screen to match the music notes and avoid mistakes. With so many victories behind you, it is not a doubt you can win this mod again! Good luck!