FNF vs Huggy Wuggy (Poppy Playtime)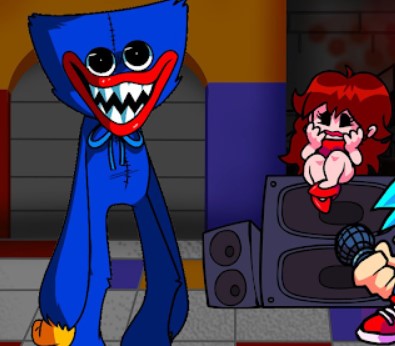 It seems the main character of Friday Night Funkin has already seen all sorts of antagonists. He has met the dangerous clown, ghost, and crazy animatronics and successfully defeated them all. But wait, who will turn up in this new mod? It cannot be true, but unfortunately, you are going to go through one of the scariest stories in the FNF history. Are you ready to look behind the curtain? Then, you should definitely need to learn a bit more about whom you are going to meet in this adventure. Have you heard about the mysterious toy factory? It looked completely abandoned until the moment when the former worker decided to visit it. And then, it turned out that the place is full of monsters. The most horrifying thing is that all these villains are plush toys that some unknown power brought to life. Now they are really insane and bloodthirsty creatures killing everyone who dares to turn up on their way. One of these toys is Huggy Wuggy. It is a shaggy giant that smiles and rushes to hug everyone he meets. Most of his victims did not recognize the true intentions of this enemy and died in his deadly hugs.
They were tricked by his wide grin, but it was only a treacherous method to lure them closer to his reach. Now the hero decided to leave the factory for a while and look around in the search of more entertainment. And this is how he finds himself in the FNF world. Huggy Wuggy just looks awkward and huge for dancing. In fact, he is very mobile and sings and dances well. Will Boyfriend be able to fight the monster this time? Agree, it's not so easy to think about notes when your life is in danger. But there is no other way out – you have to beat your adversary if you want to stay with your Girlfriend, and just stay alive. Do your best to help the main hero not to succumb to fear. If he is frightened and confused, then mistakes will not be avoided. Your task is to prevent this scenario development. Help the hero to focus and show the best performance. It will not be easy, but if you work hard, you will definitely cope with the challenge. Listen to the rhythm, click the arrows on time and repeat every beat of the song! Show Huggy Wuggy who is the music pro!